After sliding to a low of $15.5K amid a liquidity crunch, FTX Bitcoin (BTC) gained momentum on better-than-expected Consumer Price Index (CPI) numbers released by the US Bureau of Labor Statistics.
Crypto and Market Education Platform Eyshark tweeted,
"Bitcoin has an easy path to $20k as stocks bullish and positive CPI numbers."
During intraday trading, bitcoin is up 3.78% to $17,281 in the last 24 hours CoinMarketCap,
The CPI growth was lower than expected as it rose 0.4% in October, the lowest since January 2022. US Bureau of Labor Statistics Told,
"The all-commodities index rose 7.7 per cent for the 12 months ending October, the smallest 12-month increase since the period ending January 2022. The all-item less food and energy index rose 6.3 per cent over the past 12 months… all of which were lower compared to the period ending September."
The low CPI number triggered a bullish reaction in the BTC market as it could mean that federal Reserve (Fed) will reduce interest rate hikes, which have been detrimental to the crypto ecosystem.
The Fed is raising interest rates by 75 basis points (bps), and this is one of the primary factors hindering a significant move for the cryptocurrency.
Despite the positive CPI numbers, the crypto market is still not out of the woods as the bear bite continues. Market Insight Provider Content Indicator Explained,
"CPI was low, jobless claims were high. FireCharts shows the initial reaction of the crypto market to bet on the forecasted economic data. Bear market rally still alive BTC."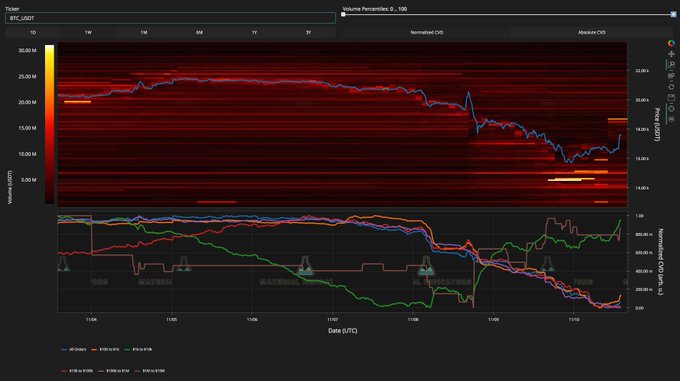 Source: MaterialIndicators
The collapse of one of the major crypto exchanges, FTX, has also made the digital asset space volatile.
Reportedly, the liquidity problem facing FTX may stem from the exchange's CEO, Sam Bankman-Fried, secretly transferring at least $4 billion to promote its trading arm, Alameda Research, In which part of the money is deposited by the customer.
Image Source: Shutterstock